M A N T A R A Y
"Numinous Island"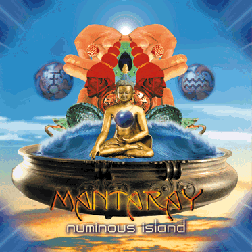 In an essay titled "On Numinous Objects and Their Manufacture" Peter Blegvad describes a numinous object as being a "mirror of the spirit" and the "radiant focus of an entire world." Both are true in the case of this sensuous new ambient work by Susumu Yokota and DJ Ray.
Yokota's first release on the German label Harthouse was a full length titled "The Frankfurt-Tokyo Connection" which charted in the Top Ten Techno charts of NME and Groove Magazine. Last year has also seen the release of Yokota's Ebizen on Berlin's Space Teddy label. Yokota is a prolific and well known electronic composer who now turns his attention to working in the ambient genre with his project Mantaray.
DJ Ray travels between Goa, Sydney and Tokyo where he spins at parties. Together Yokota and Ray being you on a journey to an island that radiates with the harmonic patterns of nature that gently discharge themselves into your subconscious.



"Zentrical Wheel" (MPEG 312K)