2 3 . D E G R E E S
"Born of Earth's Torments"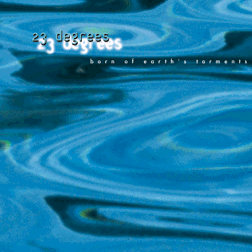 Another piece of dub artistry arises from the authentic ambience and reggae revelations of 23 Degrees. Their second release, "Born of Earth's Torments", expands on powerful trance melodies composed by Timothy Hendricks, surging drumbeats of Roy Robinson, and soulful ethnic vocals of Bertha Matus.

A contemporary style of combining slow repetitive rhythms with hypnotic, deep bass is what makes 23 Degrees move beyond its counterparts. The band's diverse influences include Brian Eno, John Cage, Omar Moore, Sly Dunbar, Frank Zappa and Robbie Shakespear. Wired Magazine acknowledges that 23 Degrees "offers superbly crafted ambient landscapes."

Collectively the members of 23 Degrees create depth of originality and experience into "Born of Earth's Torments."



Going Fast (Trail Mix) (MPEG 391K)